Ever wondered why your selfies are dull, flaky, dark and not up to the mark? You see thousands of pictures on social media and think HOW CAN SOMEONE BE SO PERFECT? Well… I have got you covered! The best way to get your selfie game strong is to capture all your precious moments in daylight. YES! You read right in DAYLIGHT! Daylight can make your selfies so perfect that you won't be needing any editing or Photoshop at all. Lightning has a great impact on selfies it can boost up your pictures in a go. Lightning can surely create such a real like effect in a picture that even if you are not capturing a picture from a super expensive camera in your hand still it will give you the same radiant effect. Have you ever seen the pictures taken on a beach and pictures taken inside your house gives you two completely different images even if you are using the same camera? It is just because of the daylight that brings a great change in the selfies. Many different selfie lights in the market will put artificial light on your face directly and will complete your lightning factor for pictures but the results are completely different when it comes to daylight.
To ensure that perfect angle to your photo, try accessorising your phone with an ease holder or a cool pop socket with a design of your choice. This makes sure that your photo doesn't turn out to be blurry and you can stress less on holding the phone and focus more on getting the perfect pose for your selfie.
Daylight is natural and what is natural is never replaceable. The result for both of the selfies in daylight and without daylight will give you the perfect idea that daylight will always be the win-win situation in the selfie game but the light of twelve of noon and four of the evenings are completely different. If you are taking a selfie in sharp strong sunlight it might not give you the result which you expect it to be and might be too bright for you to adjust but some certain tips and tricks can be used in the daylight which can give you the best results so here are some selfie changing tips and tricks on how to take the best selfies in daylight.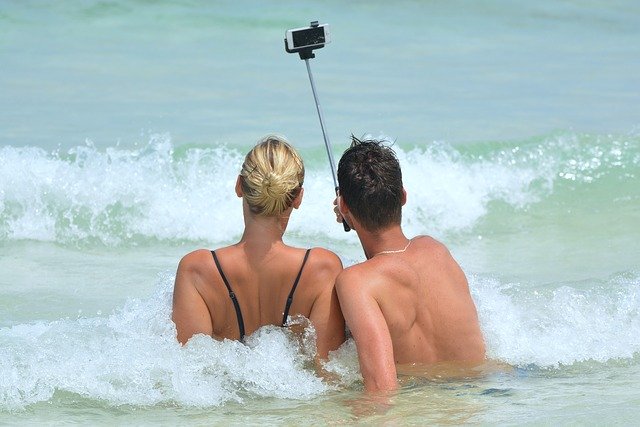 THE GOLDEN HOUR TIME:
The golden hour is one of the best times to take the perfect selfie it is somewhere between when the sun is setting. It will give your selfies such an amazing finished look that every inch of the photo will be flattering and amazing to see and the colours of your background will be perfect and ideal to give the selfie a ten out of ten.
NO DIRECT LIGHT:
Don't stand under the light or to the area which is giving the direct sunlight on your face because there will be a lot of exposure in your picture and your picture might get washed out too because of the sharp light, remember to always stand to the breaking point of sunlight where the light is not coming directly towards your face.
MAKE YOUR OWN DAYLIGHT SHADOW:
If you want the direct light but don't want to look too bright the best way is to create your own shadow in your selfies by putting up an umbrella or a piece of see-through shade that will allow the light to come to your face but not directly and can still give you the perfect bright selfie. So, with the right shadow and a firm phone grip, you can have one Instagram worthy photo.
BE NATURAL IN DAYLIGHT:
Try to take your selfies mostly in daylight in the area that is naturally filled with greenery and flowers because that will not just prominent you but also beautify your selfies immediately and automatically.
LAST BUT NOT THE LEAST CONFIDENCE IN DAYLIGHT:
The last but not the least trick is to be confident and be comfortable while taking selfies in daylight because confidence can uplift anything it will not only just complete the picture but also surely will get all the pieces together.
So, these were the tips and tricks for getting the perfect selfies in daylight. These tips will not just only make your selfie game strong but also will help you to become an amazing selfie expert so go ahead and start taking selfies in daylight and be unstoppable.